2021 ASPE Student Challenge
Preliminary Plan: 2021 Minneapolis, Nov 1-5 (Could be virtual)
Student Challenge Power Point Download
Students are provided (Aug 25, 2021) with:
NewWayXY air-bearing (10 mm2 travel range) with Heidenhain LIKgo line scales – 78 nm resolution
Motus Mechanical Flexure – based scribe tool (Z ) mechanism with feedback sensing using Lion Capacitance probe Chardon Tool Diamond scribing tool.
Sample substrates – 20 x 20 mm Copper coated Si wafer  held on a vacuum chuck •Open Hardware and LabVIEW Software to control the stages and flexure mechanism.
CPM, UNC Charlotte  developed 16 bit DAQ with 3 Channel current amplifiers to operate voice coil actuators Consulting sessions with experts in the various fields will be provided. – between Sep 1 & Nov 1.
Means to gage progress at the school.
Means to be able to ship a few samples to Zeiss Industrial Metrology – before progress report  in Oct 1st.
Means to either measure the final samples at the conference or ship 2 weeks before Nov 1st to the Zeiss.
At the conference, room with meals and drinks.
Recognition to all, and monetary prices to the top 3 schools ($4 , $2 and $1 Ks)
Grading rubric will allow for machine improvements but points are only given for manufacturing processes & results.
School needs access to:
Clean/dry air (around 80 psi).
National Instruments myRIO Controller.
---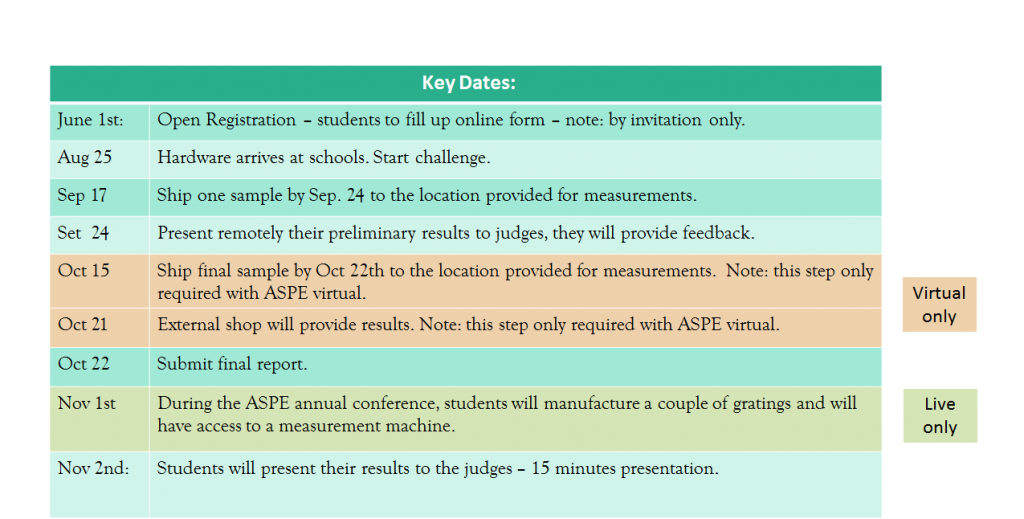 ---
Committee Members – 2021
Luis A. Aguirre – 3M Company <laaguirre2@mmm.com>
Kumar Arumugam – UNC Charlotte <karumuga@uncc.edu>
Dipankar Behara – UT Austin <dipankar.behera@utexas.edu>
Paul Brackman – Zeiss <paul.brackman@zeiss.com>
Raymond C. Cady – Corning, <cadyrc@corning.com>
Jacob Cole – UNC Charlotte <jcole50@uncc.edu>
Liam G Connolly – UT Austin <liam.connolly@utexas.edu>
Tim Dalrymple <dalrymple.tim@gmail.com>
Drew Devitt – New Way bearings<Drew.Devitt@gmail.com>
Chunjie Fan – UNC Charlotte <cfan4@uncc.edu>
Mark T. Kosmowski – Electro-Scientific Industries, Inc., <mark.kosmowski@mksinst.com>
Mark Schmitt <mschmitt54321@gmail.com>
Don Martin – Martin Mason LLC <don@martin-mason.com>
Senajith Bandara Rekawa – Lawrence Berkeley Laboratories <sbrekawa@lbl.gov>
Nilabh Roy – Canon Nanotechnologies <nroy@cnt.canon.com>
Stuart Smith – UNC Charlotte <stusmith@uncc.edu>
Alex Sohn – Facebook Reality Labs <asohn@fb.com> Trevor Stolber – 3M company <twstolber@mmm.com>