Graham J. Siddall Student Scholarship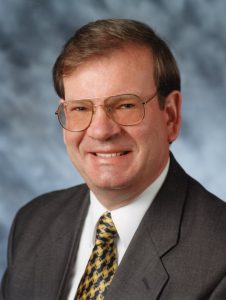 With a 10-year student endowment, Graham Siddall will recognize a student scholar in the field of precision engineering. This prestigious award is valued at $2,500 and will support the student winner in the form of waived conference and tutorial fees and a stipend to cover the travel costs to the ASPE Annual Meeting.
Graham Siddall received his BS degree in Production Engineering and Management with First Class Honors from the University of Nottingham in England. He received his M.Sc. and Ph.D. degrees in Natural Philosophy (Physics) in 1971 and 1975, respectively, working under the guidance of Professor R.V. Jones at the University of Aberdeen in Scotland.
After working in surface metrology at Rank Taylor Hobson in Leicester, England, Dr. Siddall was awarded a Lindemann Research Fellowship to the United States where he joined the team at Stanford University working on the NASA/Stanford Gyro Relativity Experiment.
His work at Stanford focused on developing the metrology techniques and equipment needed to manufacture the very precise spherical quartz rotors used in the cryogenic gyroscopes for the GP-B space mission. Following this, Dr. Siddall joined Hewlett-Packard Labs in Palo Alto, working in the X-ray and E-beam Lithography group, primarily in the area of precision stage design. He went on to become the Vice President of research, development and engineering at GCA Corporation which marked the beginning of a long and distinguished stint in semiconductor capital equipment. Following GCA, in 1988, Dr. Siddall joined Tencor Instruments in California as Vice President of Technical Marketing and later became its first Chief Operating Officer. Over the next ten years the Company grew tenfold and merged with KLA in 1997, to form KLA-Tencor Corporation, where Dr. Siddall led the multi-billion dollar Wafer Inspection Group as Executive Vice President. In July 1999, he left KLA to join Credence Systems, a semiconductor test equipment company, as its President and Chief Executive Officer and then later, as Chairman of the Board, before retiring in October 2005.
Following a number of Board positions in the semiconductor and electronics industry, most recently as Chairman of the Board of DCG Systems, Inc., Dr. Siddall has now relocated to the Pacific Northwest and has developed an interest in the area of eye research and the mitigation of eye disease. He is an active member of the University of Washington Medicine Eye Institute Community Action Board and has become an investor in the field of medical instrumentation startups. In 2016 he was awarded an Honorary Doctorate (D.Sc.) by Aberdeen University for his technical, business and philanthropic achievements.
2023 Recipient: Parth Pandya, The University of Texas at Austin (Dr. S. V. Sreenivasan, Advisor)
2022 Recipient: Yaoke Wang, Northwestern University (Dr. Ping Guo, Advisor)
2021 Recipient: Ian L. Heyman, University of Texas at Austin (L. Zhou, Advisor)
2020 Recipient: Alper Dumanli, Oregon State University (Burak Sencer, Advisor)
2019 Recipient: David Cayll, The University of Texas at Austin (Michael A. Cullinan, Advisor)
2018 Recipient: Martin J. Ward, The University of Texas at Austin (Michael A. Cullinan, Advisor)