Hybrid (In Person at the Boston Park Plaza or Virtual)
6A and 6B – Principles of Precision Machine Tool Design Parts 1 and 2
Mark A. Stocker (Cranfield Precision, Division of Fives Landis Ltd.)
Monday, November 13, 2023
8:30 AM – 12:30 PM (EST USA) – Part 1
Tuesday, November 14, 2023
8:30 AM – 12:30 PM (EST USA) – Part 2
The tutorial will be based upon Prof. Pat McKeown's Eleven Principles and Techniques of Precision Machine Design and will primarily use examples from ultra-precision machines designed and manufactured by Cranfield Precision over the past 30+ years.
The tutorial will give many examples of how the designed machines and machine elements relate to the principles and techniques. The machines and subsystems included for discussion will range from individual machine elements (eg grinding wheels, slideways, drives, etc.) and the interplay between them to complete large optical grinding machines.
There will also be examples of the outcomes where designs have intentionally and unintentionally not adhered fully to the principles and techniques.
Sometimes it is not possible to adhere to the principles and techniques as we would like. In those circumstances, we have to be aware of and where possible mitigate for, the risks we are taking.
In what has become a tradition for ASPE, there will also be some examples of 'Horrobielia', to help demonstrate that with the best will in the world, sometimes the stars align perfectly to produce an unexpected (usually unwanted) outcome.
For those unable to attend both sessions, there will be a review in each session to give an overview of the complete tutorial.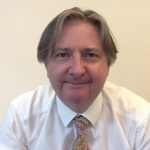 Mark Stocker is the CTO of Fives' Grinding – Ultra Precision Business Unit's R&D group, which was formed in 2019 out of Cranfield Precision, a world leader in the design and manufacture of ultra precision machine systems.
He has 45 years of professional engineering experience, with over 30 years in the precision engineering field. In 1989, he received his Masters Degree in Machine System Design at Cranfield University and following graduation joined Cranfield Precision. In 2000 Mark joined Corning Incorporated's Precision Machine Systems Group, based in Corning NY. In 2006, he was promoted to Development Associate in recognition of his 'outstanding scientific contributions' to the company.
In 2007, he rejoined Cranfield Precision and in 2010 became Division Manager.
He is a Fellow of the UK's Institution of Mechanical Engineers, an active member of euspen and ASPE.
Mark has been responsible for the design of ultra precision grinding, turning, inspection and dynamic calibration machine systems, resulting in over 152 granted patents worldwide for 42 independent inventions.