In Person Only
14-Air Bearings in Machines and Processes
Andrew J. Devitt, New Way Air Bearings
Tuesday, October 11, 2022
8:00AM – 12:00N (PDT USA)
---
This tutorial is designed to simplify choosing air bearings and give you confidence in applying air bearings. We'll start off discussing different kinds of air bearings and giving examples where they have been successful. This will include dynamic and static bearings. We will spend some time on restriction, how and why it's used in aerostatic bearings. We will look to the different types of bearings including flat pads, bushings, radial and spherical bearings. We will consider ways of mounting bearings including, sockets, bonding, flexors and other compliant mounts. We will look to air and vacuum supply and service tubes. Of course, we will cover properties of air bearings including stiffness, damping, load capacity, shear losses, stability. But we will not forget applications, metrology, testing machines, medical applications, semiconductor, flat panel display, flexible substrates and electronics, high speed rotating equipment and environmentally inspired machines will be covered. Can we cheat Newton?
---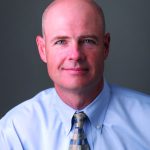 Drew Devitt started off in the machine-tool trades learning the art of way scrapping while in high school and college. After college (history of economics) he went on to work for the family business selling a moldable bearing material that is used to create sliding way surfaces by machine-tool builders and rebuilders. 30 years of experience selling to and working with the US machine-tool builders has given Drew an extensive experience in heavy precision machine-tool design and erection. During the late 1980s and early 1990s many machine-tool builders began to employ rolling element linear guide ways. Fortunately, Drew had gotten involved with the ASPE and was developing porous air bearings. He found success selling air bearings to coordinate measuring machine manufacturers first, then the machine tool, medical, motor sports, semiconductor, Flat Panel Display Screens and now even equipment for manufacturing Flexible Electronics. Today, New Way Air Bearings is the world leader in air bearings sales and the number search result for "Air Bearings". Drew's long history with the ASPE, his experience building precision machine tools and especially, having to sell and make air bearings work, to survive, gives Drew great perspective on the practical application of air bearings.

The last several years Drew has been applying porous gas bearing technology to bearings and seals for the rotating equipment and turbo industries. He sees promise in eliminating oil from large turbines, motors, generators, and compressors.

Drew holds over a dozen patents and is a regular author of technical papers and magazine features. One of his hobbies is renewable energy, having written novel articles on wind energy for Power Magazine and on energy storage in Renewable Energy World.