Accommodations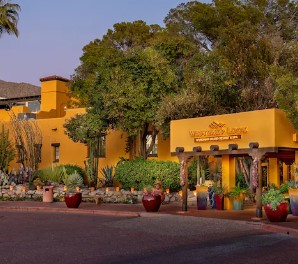 Westward Look Wyndham Grand Resort and Spa
245 E. Ina Road
Tucson, Arizona 85704 USA

March 6-7, 2023
Hotel Cutoff Date: Friday, February 10, 2023
The Westward Look Wyndham Grand Resort and Spa is an 80 acre resort oasis in the Sonoran Desert. It was originally built as family home in 1912, and it currently offers an upscale resort experience. Each guest room offers a private balcony with breathtaking views of the surrounding desert landscape. It's location near Sabino Canyon and Saguaro National Park are just two of Tucson's best attractions.
ASPE has reserved a block of rooms at the Westward Look Wyndham Grand Resort and Spa at a preferred rate of $199 per night and a resort fee of $15 per night. Note that the hotel cutoff is Friday, February 10, 2023. PLEASE make your hotel reservations well before this date, as after February 2, ASPE will no longer have a room block available and sleeping rooms will be subject to the resort's availability. You can make your reservations in one of the following ways:
By Phone: 520-917-2970. Mention that you are with the ASPE Group that has a blocked reserved from March 4-7, 2022.
By E-mail: reservationsTUSGR@wyndham.com. Please do NOT e-mail credit card information. Include your name, a daytime phone number and the dates you wish to reserve a sleeping room.