The conference will be take place at the Commons Conference Center at the University of Texas at Austin.
Location Map: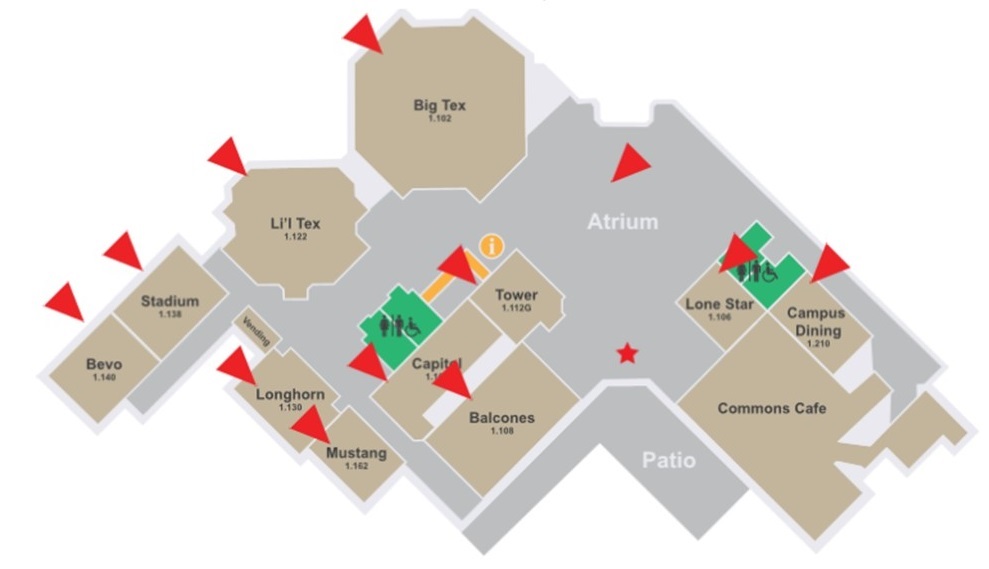 Location:
Commons Conference Center
10100 Burnet Road, Bldg 137
Austin, TX 78758
Thursday January 16
2:00 – 4:00 pm Registration and check-in open

Registration will be located in the Atrium.

4:00 – 5:30 pm Lab tours of the Nascent Center

If you would like to participate in this tour please meet in the atrium  at 4 pm in the Commons Conference Center and the group will walk over to the Nascent Center.

5:30 – 7:00 pm Dinner and Networking

All meeting attendees are welcome to attend the Dinner and Networking.  This dinner will be located in the Atrium of the Commons Conference Center.
Friday January 17
Breakfast – 7:45-8:10 am

Seat members in Balcones, pass out documents

Session 1 – Scale Up

8:10 – 8:15 am – Introduction
8:15 – 8:45 am – 'Digital Atomic Scale Fabrication' – John Randall 
8:45 – 9:30 am Lightning round talks (3 minute presentations)

"Nanocoining: Large-Area Masters for R2R NIL" – Stephen Furst
"Multiscale Precision Instrumentation Laboratory" – Ouyang Wenqi
"Industrial X-ray Quality Solutions: From the research Lab to Industrial Production" – Herminso Villarraga-Gómez
"Application-Driven Precision Mechatronics" – Lei Zhou
"Lion Precision" – Gregor Hanes
"Ultra Precision Machining of Hard and Brittle Materials" – Hossein Mohammadi
"Additive Manufactured Very Light Weight Diamond Turned Aspheric Mirror" – John Casstevens
"Scalable Technologies for Advanced Manufacturing (STEAM) Laboratory at Georgia Tech" – Sourabh Saha
"Wafer Scale Exfoliation of Microscale Monocrystalline Silicon Films" – Martin Ward
"Microscale Additive Manufacturing Research" – Dipankar Behera
"Defining the Role of Tip-based Measurement in Roll-to-Roll Nanofabrication" – Liam G. Connolly
"Hyperspectral Imaging for High Throughput Metrology of Si Nanopillar Arrays" – Crystal Barrera

Break
Session 2 – Quantum Engineering

10:00 – 10:30 am – "Nano-to-Macro Fabrication of Superconducting Circuits for Quantum Information Technology" – Shyam Shankar
10:30 – 11:00 am –"Surface Ion Traps for Quantum Computing" – Daniel Stick
11:00 – 11:45 Lightning round talks (3 minute presentations)

"Precision Micro/Nano Team at LLNL" – Robert Panas
"Multi-Bessel Beam High-Resolution Wafer Dicing Based on a Spatial Light Modulator" – Hiu Hung Lee
"A Study of Mechanical Logic Elements" – Frederick Sun
"Design and Microfabrication of Mechanical Logic Gates" – Amin Farzaneh
"The PtychoProbe at the Advanced Photon Source Upgrade" – Curt Preissner
"Precision Process Control in Volumetric Additive Manufacturing" – Johanna Schwartz
"MEMS Dynamic Mechanical Analyzer for in situ Viscoelastic Characterization of 3D printed Nanostructures" – David Cayll
"Automated Three-Dimensional Microgranular Crystal Fabrication" – Miles Lim
"Displacement Measurements and Nano-Positioners" – Vaden West
"Achieving the Upper Bound of Piezoelectric Response in Tunable, Wearable 3D Printed Nanocomposites" – Desheng Yao
"Genesis R2R RIE Platform: Si nanoPillars" – Ziam Ghaznavi
"Targets Fabrication – National Ignition Facility Lawrence Livermore National Laboratory" – Stefano Schiaffino

Open session and Lunch

11:45 am – 1:00 pm Follow up free discussion/posters/hardware, lunch

Session 3 – Scale up

1:00 – 1:30 pm Keynote – "Nanoscale Fabrication Enabled by Precision Systems" – Sharwan Singhal
1:30 – 1:45 pm – "Nanostructured Materials and Nanomanufacturing Laboratory" – Chih-Hao Chang
1:45 – 2:00 pm – "Micro Cold Spray for Producing Ceramic and Metal Patterned Thick Films" – Desiderio Kovar
2:00 – 2:15 pm – "Photomask Inspection and Metrology" – ChaBum Lee
2:15 – 2:30 pm – "Large Angle Micromirror Array" – David Torres Reyes

Session 4 – Open Session and Closeout

2:30-3:15 pm Follow up free discussion/posters/hardware
3:15-4:00 pm Follow up free group discussion – Plans for micro/nano precision community to be summarized in editorial