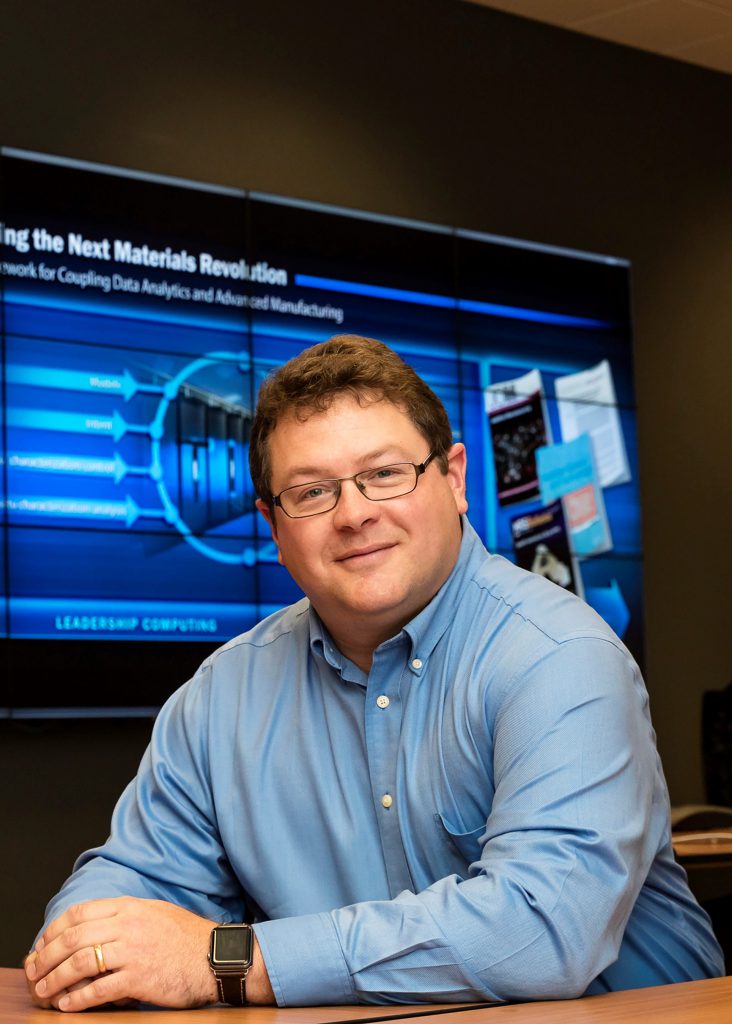 William (Bill) Peter, Ph.D. (Director, Manufacturing Demonstration Facility)

William (Bill) Peter, Ph.D.
Director, Manufacturing Demonstration Facility
Energy and Environmental Sciences Directorate
Oak Ridge National Laboratory
---
Virtual Tour of the Manufacturing Demonstration Facility
Advanced manufacturing technologies such as additive manufacturing and advanced composite fabrication pose new challenges and complications in the qualification and end use of components made by these technologies. Temporal and spatial modifications in the process can result in localized defects or changes in the microstructure ultimately effecting performance. Additive manufacturing allows for the ability to deposit more than one material increasing the complexity in evaluating materials performance but ultimately providing increased functionality.  Lastly, many applications require both additive processes along with subsequent process steps such as machining to provide functional surfaces or features.  Each of these challenges pose new opportunities to create solutions in the measurement sciences to better understand the processes, increase efficiency and yield, optimize performance and reduce costs.
This virtual tour will review new manufacturing technologies in additive manufacturing, composites, machining and digital fabrication currently being utilized at the MDF.  Research in materials, systems, metrology and characterization techniques, simulation and data analytics will be discussed. Throughout the tour, the digital factory concept with real time measurements, data processing, modeling and data visualization will be captured as it relates to the manufacturing platforms. Lastly, the integration of industry, academia and national resources to accelerate advanced manufacturing technologies and their commercialization will be discussed as it relates to the Manufacturing Demonstration Facility.
---
Biography: Dr. William Peter is the Director of Department of Energy's Manufacturing Demonstration Facility at Oak Ridge National Laboratory. The Manufacturing Demonstration Facility (MDF), established in 2012, is the Department of Energy's only designated user facility focused on performing early-stage research and development to improve the energy and material efficiency, productivity, and competitiveness of American manufacturers. Dr. Peter currently leads research that is focused on manufacturing analysis and simulation, composites and polymer systems, metal powder systems, metrology and characterization, machine tooling, large-scale metal systems, and robotics and automation. Prior to directing the MDF, Dr. Peter led approximately 80 people in joining research, metal and ceramic processing, carbon fiber and composites, energy storage, separations, and additive manufacturing for ORNL's Materials Science and Technology Division. He has led the initiation of approximately 20 to 30 new R&D projects each year with industry and has been involved in over 190 partnerships with industry since the inception of the MDF. Dr. Peter's own personal research has been in the materials science and manufacturing of titanium components from low cost powders, fabrication and performance of amorphous alloys and nanocomposite materials, refractory cladding of steels, consolidation of icosahedral aluminum alloys and improving the formability of titanium and magnesium sheet. Dr. Peter has been author or co-author for 60 peer reviewed articles and technical reports and has won 6 R&D 100 Magazine awards for research in advanced manufacturing including titanium powder consolidation, consolidation and deposition of nano-composite and glassy alloys, new shear rolling technologies and additive manufacturing developments. Last year alone, Dr. Peter oversaw the execution of 6,200 visits, ~70 publications and reports, 17 honors and awards and the initiation of $100M in collaborative research projects with industry. Dr. Peter received his B.E. from Vanderbilt University in 1996, and his M.S. and Ph.D. from the University of Tennessee in 2002 and 2005, respectively